Eastern Polymer Group invest in Joint Venture with Sumiriko Eastern Rubber (Thailand) Co.,Ltd. and Zeon Advanced Polymix Co., Ltd.
Investment in Sumiriko Eastern Rubber (Thailand) Co., Ltd. for manufacturing of shock absorbing rubber and fuel hoses for motorcycles.
The Company has associated with Japanese firm, Sumitomo Riiko Company Group – one of the world biggest manufacturers of anti-vibration rubber. The product ranges include rubber covers for engine and fuel hoses for cars and motorcycles which are distributed to large manufacturers with production based in Thailand and worldwide.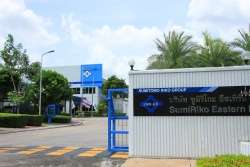 The company has changed the name of Tokat Eastern rubber (Thailand) Co., Ltd. To Sumiriko Eastern Rubber (Thailand) Co., Ltd. or SRK-ER on 1st of June 2018.The Company holds 30% of ordinary shares (not included preferred shares) in Sumiriko Eastern Rubber but is entitled to receive dividend and has voting rights at 20% in Sumiriko Eastern Rubber (Thailand) Co., Ltd. The reason is based on the fact that Sumitomo Riiko Co., Ltd. holds 25,000 preferred shares which allows voting right and receive dividend 30 times of ordinary shares. However, according to the joint venture agreement, any significant amendment must be approved by at least 81% of represented shares.
The products of Sumiriko Eastern Rubber are mainly distributed to domestic automotive manufacturers and assemblers. The remaining products are sold to companies under Sumitomo Riiko Company Group as well as other automotive firms worldwide.
Production Capacity and Factories: Sumiriko Eastern Rubber produces all products in its 2 factories located in IPP Industrial Estate, Nikom Pattana District, Rayong and Eastern Seaboard Industrial Estate, Pluakdaeng District, Rayong.
Investment in Zeon Advanced Polymix Co., Ltd.
This business is production and distribution of rubber compound for natural and artificial rubber used in various industries. Customers are from within the country and oversea whereby more than 70% of them are automotive industry which produces anti-vibration rubber, seals, car doors including rubber parts used in construction site. At present production capacity of Zeon Advanced Polymix is approximately 47,000 tonnes/year, – considered as one of the biggest manufacturers of compound rubber and artificial rubber in Thailand. The Company holds 27% of shares in Zeon Advanced Polymix Co., Ltd.
Majority of products from Zeon Advanced Polymix are distributed to more than 100 automotive part manufacturers (0riginal Equipment Manufacturer "OEM") both domestically and overseas.